2020/3/2
Telexistence Co., Ltd. (Headquarters: Minato-ku, Tokyo; CEO: Jin Tomioka; hereinafter referred to as TX) and LeaguerX Entrepreneurial Investment (Shenzhen) Co., Ltd., (Headquarters: Shenzhen, China; representative Xiang Zheng, hereafter referred to as LeaguerX), has established a strategic alliance and will begin to cooperate in building and accelerating TX's business development in China. LeaguerX is an affiliate organization of Leaguer Group Co., Ltd. (hereinafter referred to as Leaguer Group) which aims to provide customized services to overseas technology companies that seek to build an industrial base in China.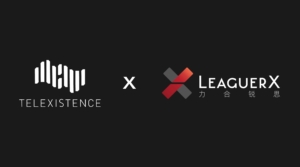 1. Providing needed resources to build a solid business foundation
LeaguerX, together with Leaguer Group, will provide resources to support TX in areas such as business registration, office opening, and staffing support. In addition to the above, LeaguerX will also provide support in terms of customer introductions, investor introductions, and coordination of resources needed for development.
2. Support around collaborating with government / government-related institutions
As collaboration with the Chinese government and government-affiliated agencies will be essential in China, we will expand our base by strengthening relations through the support of LeaguerX.
3. Considerations around setting up joint ventures and research institution
We will begin to consider establishing a joint venture or research institution between TX and Leaguer Group or other partners recommended by LeaguerX as a long-term perspective.
[About Telexistence Inc]
TX is a robotics company that develops remote controlled robots with artificial intelligence, with the mission to change robots, change the structure, and change the world. TX aims to develop a platform concept, "Augmented Workforce", a platform that enables people to provide their workforce remotely, through robots.
[About LeaguerX]
LeaguerX is a wholly owned subsidiary of Leaguer Group. It was founded in 2017 in Shenzhen to conduct Leaguer Group's international collaborations and services. With the resource and intelligent support from Leaguer Group and the Research Institute of Tsinghua University in Shenzhen (RITS), LeaguerX has been continuously providing customized services to support cross-border activities of overseas technology companies and organizations in China. In the meantime, LeaguerX has been working together with professional partners worldwide to enhance the capability and influence of the international innovation network established by Leaguer Group and RITS. Several cross-border acceleration programs and consulting programs have been successfully delivered by LeaguerX since 2017, involving hundreds of technology startups, several top-level professional institutes and enterprises.
[Company Profile]
Company Name : Telexistence Inc.
Location : 2-19-5 Nishi-Shinbashi, Minato-ku, Tokyo
Representative : Jin Tomioka, CEO
Establishment : 2017/1/23
Company HP : https://tx-inc.com
[Inquiries]
Email: info@tx-inc.com
Contact name: Matt Komatsu
https://tx-inc.com/wp-content/uploads/2020/03/TXLX-04.jpg
2084
2084
yuichiro.hikosaka
/wp-content/uploads/2019/01/logo-icon_画板-1-300x77.png
yuichiro.hikosaka
2020-03-02 10:30:04
2021-06-04 06:12:26
Telexistence enters strategic alliance with LeaguerX to start building a foundation for business development in China